Bank transfer: How can I withdraw my ProZ*Pay balance to a bank account in American dollars?
The "Bank transfer" option in the "Preferred payout method" drop-down method is used for payouts that will be converted to your country's local currency. Learn more about using bank transfer as your payout method.
If you don't live in the United States but would like to receive your payout in American dollars, it's best to use an alternative method, such as Wise or Payoneer. They will allow you to receive your payouts in American dollars and retrieve them through an USD bank account. Learn more about all the available payout methods, such as Wise and Payoneer.
If you don't have an account in any of the available alternatives and cannot create one, you can contact the ProZ.com support center to arrange an alternative payout method that will allow you to withdrawal your money in USD.
To speed up the process, please head to your ProZ*Pay settings and fill in the "Secure notes to ProZ*Pay staff" text box with the following information:
Bank name
Bank type (Checking, savings)
Currency type (USD)
Bank account number
Bank account holder's name
IBAN number, if you have one
SWIFT or Sort Code
Your date of birth
Current address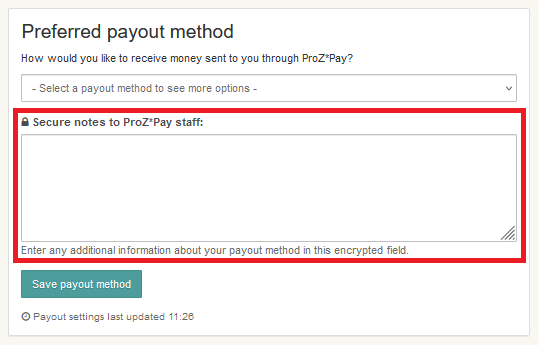 Please don't forget to press the "Save payout method" button before leaving.
Contact the ProZ*Pay team by submitting a support request if you have doubts or need more information.