How do I redeem my training credit?
To redeem a credit, visit a page of a training you want to take and "purchase" a training with your credit by clicking on a "Purchase for $ (Use purchase credit)" button on the right upper corner, as it is suggested on this screenshot: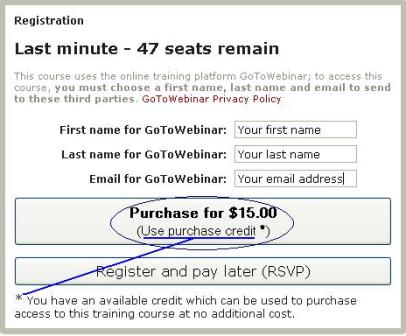 Upon credit redemption, you will receive a confirmation of your registered and paid status for the course.

You will receive an invitation to join the webinar at least two times: 24 hours and one hour before the training session takes place, or earlier. Please, click the registration link or button provided in the invitation email and complete the registration form. Make sure you do not run any heavy applications during the webinar as this can cause audio problems. Run the connectivity test before purchasing a webinar.