I purchased a training credit. How can I redeem it?
ProZ.com offers site users high quality training sessions along with special offers. If you have a special training offer you do not need to purchase a training from the training page with a normal price. In this case follow the payment steps suggested in the special offer and purchase a training credit to be redeemed towards any course which costs the credit value or less. Once your payment is processed and a training credit is issued, redemption instructions will be emailed to you.

To redeem a training credit, feel free to purchase the training by clicking on a "Purchase for $ (Use purchase credit)" button on your right as it is suggested on this screenshot: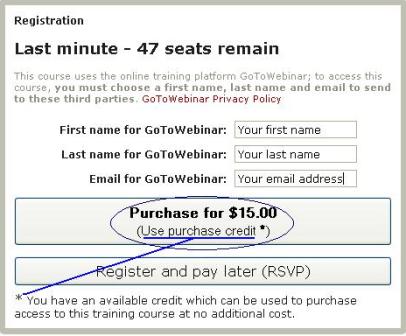 Remember that credits cannot be divided automatically. It means that if you redeem a 99 USD training credit towards 15 USD webinar the whole sum will be used. To split a credit for different courses submit a support request.