Why was the fee charged for my payout/payment received?
There are different fees you migh have been charged.

You might have been charged the convenience fee for setting up the payment. Fees are defaulted to the payer, but can be passed to the payee. This should be discussed prior to the payment. If the payer chooses to pass the fee onto you without a previous agreement, please contact your payer to have this clarified.

You might have been charged a fee for requesting an early payout--requesting a payment before the due date. Early payouts are granted in exchange of a moderate fee, and are completely optional.

You might have been charged a fee from the payout method you chose. While ProZ*Pay covers the send cost (fees associated with sending a payment), ProZ*Pay but has no control over any additional fees your bank or digital wallet might charge for receiving a payment. In order to check the fees associated with the payment method you selected, please contact the payment processor's support team directly.

To check fees associated with payments received by you, please go to your ProZ*Pay account > Payments received section "https://www.proz.com/pay/account/payments-received.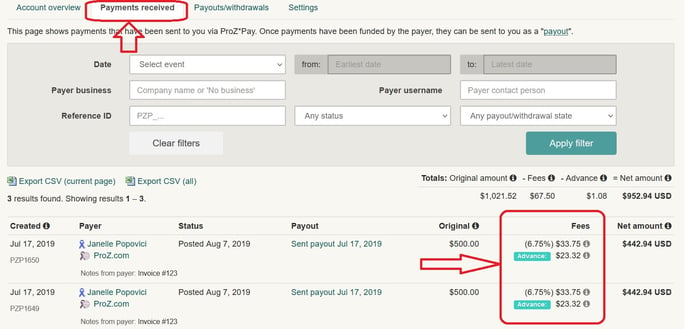 If you have any doubts feel free to contact ProZ.com Staff by submitting a support request.
You can find more information about fees also here:
* Is there any fee for using ProZ*Pay service?